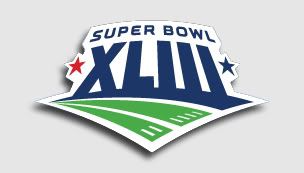 UPDATE: Click here for live Super Bowl 43 commercials coverage!
The Super Bowl is an extremely momentous occasion. It's the ultimate finale for the National Football League championship. Every year, a record amount of viewers tune in to see the two teams face off. Super Bowl Sunday has become a ritual for many Americans, providing a chance to show off new big screen TV's, take a gamble with the office pool, pig out (Super Bowl Sunday is the second-largest U.S. food consumption day), and watch outrageous things happen during the halftime show. But there's one more aspect of the Super Bowl that attracts a great deal of attention-- the commercials, of course! It's the most important advertising day of the year. So to prepare you for the upcoming onslaught of high-profile ads, I have made a list of some things you should know and other stuff that you can expect.
Date: February 1, 2009
Location: Raymond James Stadium in Tampa Bay, Florida
Who's Playing: Pittsburgh Steelers at Arizona Cardinals

Network: NBC
Halftime Performance: Bruce Springsteen and the E Street Band


Cost of a 30-second ad: $3 million
That's right, $3,000,000. Nothing compared to the bailout but c'mon... that's $100,000 a second!
The links below lead to pre-released Super Bowl commercials. Be sure to check them out.
There will be an ad competition between Monster Worldwide (who have not aired a Super Bowl commercial for four years) and careerbuilder.com
Five minutes of Anheuser-Busch. Budweiser, Bud Light, maybe even Bud Light Lime.
Pedigree dog food will air their first ad ever in the Super Bowl.
Bridgestone will sponsor the halftime show and will run two 30-second ads.
Cash4Gold, unfortunately, bought a last second slot from NBC

Cars.com has a 60-second ad in the second quarter.
Doritos will have at least one 30-second ad.
The E*Trade baby makes a comeback!
Denny's has two spots

GE, owner of NBC, will run a spot.
GoDaddy: at least one 30-second ad.
Hyundai will present two commercials for their Genesis Coupe.
Castrol Motor oil
Teleflora flower delivery

The NFL will air one 60-second spot during halftime.
PepsiCo Beverages are sure to make an appearance with their new branding.
Audi has a 60-second ad inspired by classic Hollywood chase scenes

Movie trailers: Transformers: Revenge of the Fallen, Star Trek, Monsters vs. Aliens, and 2012
Last year's slew of ads were quite disappointing. Let's hope Super Bowl XLIII has some better prospects.
For a minute-by-minute update of the Super Bowl commercials, be sure to
stop by here
. I'll be updating live for the first time. So be sure to visit the TV Ad Guru and voice your opinion on the biggest ads of the year!